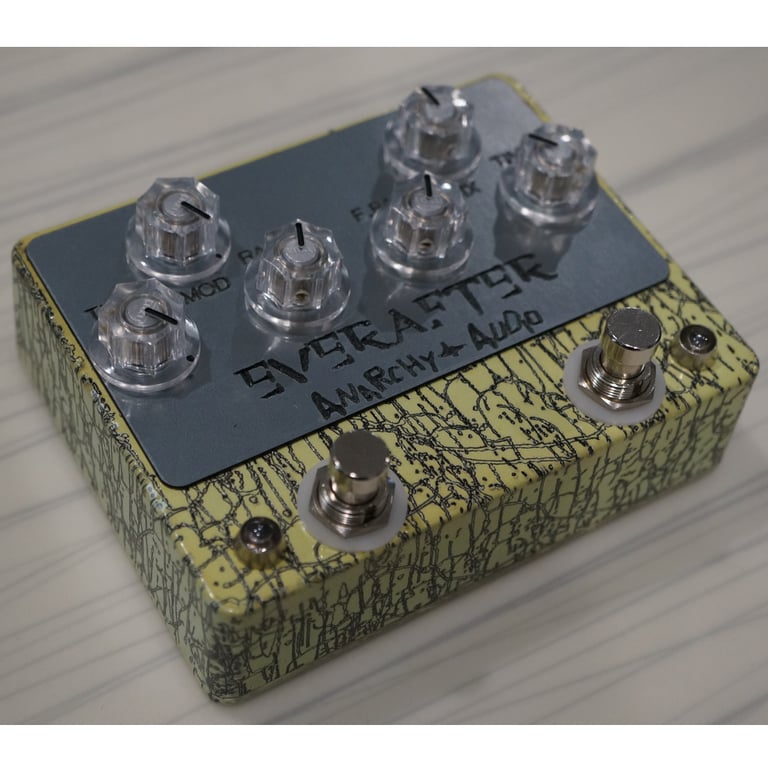 EVERAFTER (DUAL MODE DELAY) "One off a kind" Finish
Based on the delay portion of the Anarchy Audio Hereafter, with the second footswitch mode function adding modulation + Time2 control allowing the ability to dial in a very short delay time, or a note subdivision , as set from Time1
(eg dotted 8ths)
STOMPS
Right – master on/off
Left – select between Delay mode 1 (LED off) and
Modulated Delay mode 2 (LED on)
CONTROLS (CCW = counter clockwise / CW = clockwise)
MIX – mixer control for the dry analog and wet effect level. At fully CCW, there are no effects. Turning the knob CW brings in the level of effect.
TIME 1 – adjusts the delay (mode 1) time from 20ms to 760ms (at fully CW). At longer delay settings (500ms and above), the delay starts to exhibit vintage worn artefacts, akin to an old tape or vinyl player.
REPEAT – adjusts the number of effect repeats, from a short slap back to modulated ambience. At fully CW, multiple repeats fold over and cascade into self-oscillation.
When the Left mode switch is engaged (LED on), this activates the TIME 2 control, with the ability to dial in modulation on the repeats.
TIME 2 – Adjusts a secondary delay time, with reference to the TIME 1 setting.
eg. dotted 8th subdivision or a faster slapback echo
MOD – the depth of the modulation on the repeats
RATE – the speed of modulation on the repeats
SPECIFICATIONS
Enclosure: 120 x 94 x 33mm
Power: 9V DC power supply via 2.1mm centre negative jack
Current draw: ~35mA
Buffered bypass with delay trails. Analog dry path.
No battery option
Blog - https://anarchyaudio.wordpress.com/2022/04/22/everafter-dual-mode-delay-diy-pedal-workshop-2022/
CLIPS
https://youtu.be/URnlHhad1AE
https://youtu.be/YN2aEl8vneI
https://youtu.be/myhS12l5LDs
(same circuit as found in the previously held DIY workshop)
ALL PRICES IN AUSTRALIAN DOLLARS ($AUD)
If your Country is not on the list please email prior to purchasing so that we can check quotes compared to the Everywhere else pricing.